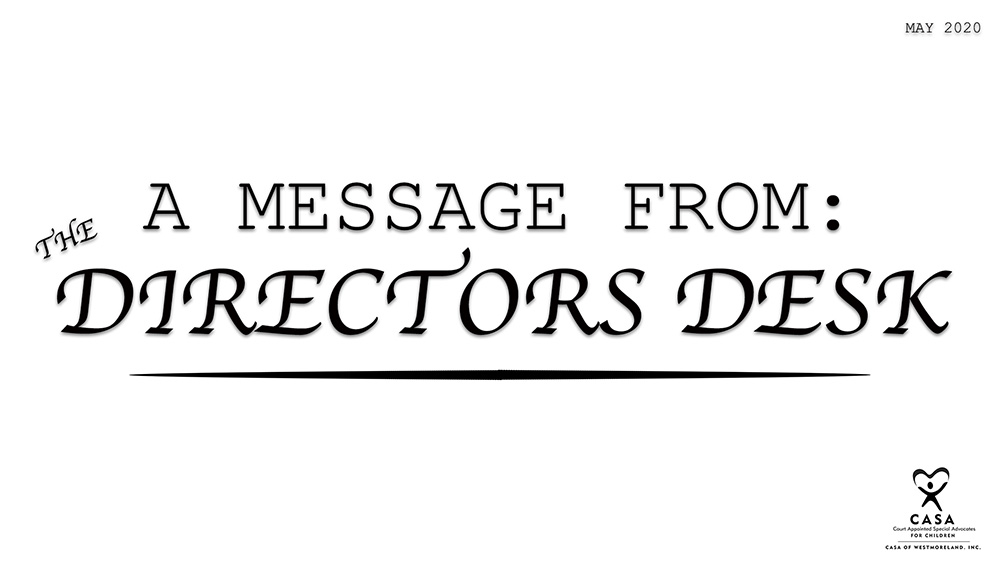 A Message From Our Director
Greetings everyone!
As is our new normal greeting to everyone dear to us, I hope you—and yours– are feeling healthy and are happily productive within our present COVID-19 society.  Hopefully, our sequestering as served a positive purpose and that we all will be able to have a safe reemergence as soon as is healthily possible!
We here at CASA have all been productively teleworking since March 18th and will continue until we reach Phase Green – which will hopefully be soon enough.
I have heard so many wonderful anecdotes about how our Advocates have been able to stay in close "alternative" contact with their case children and I thank you so much for extending your caring and monitoring of your child(ren) despite the difficulties involved in doing so.  Thanks for writing all the Court Reports that have still been expected – and needed – by the Court.  And, thank you for making yourself available for any needed testimony.  But the Hearings have continued – almost fully – telephonically, and we have more than 30 scheduled in May!   The ASFA Guidelines "clock" does not stop ticking, so the hearings propelling a child's return to normalcy kept pace despite the difficulties a pandemic brought.  Thank you for adapting to these challenging circumstances and consistently gathering valuable information about how your case child(ren) were faring.
Of course, you reported about many children somewhat pleasantly surviving their quarantine walls, but you also sadly reported about many confused, lonely and worried children too.  Adding such uncertainty to a traumatized child's already unsteady emotions is another harsh blow.  But you have been there as a calming influence, extending your caring and creativity and consistency.  We thank you so much for extending yourself at such a deeply difficult time for your child.  Your loving efforts will be remembered forever by your child…and by us!  CASA Advocates rock!!
Have a beautiful May!!
Warmly,
Karen Burns
Executive Director