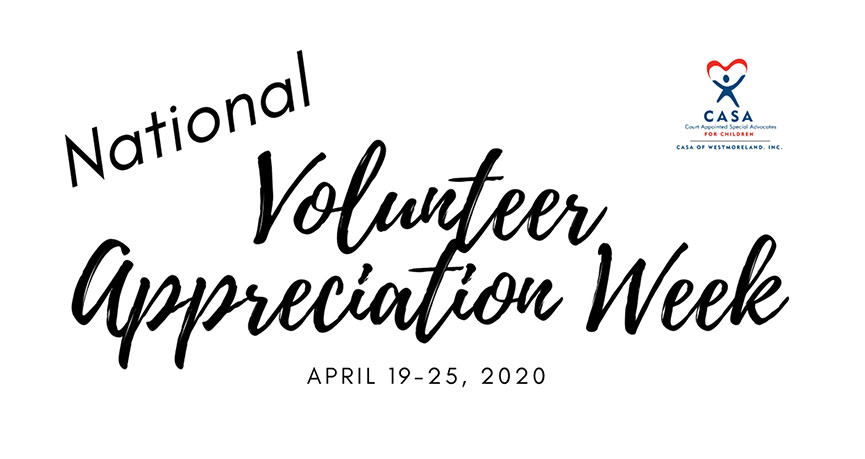 National Volunteer Appreciation Week
This week honors the millions of Volunteers, all over, that use their power to help conquer some of society's greatest tackles. This week, especially, we thank our CASA Volunteers for their dedication of service to our Kiddos.
Court Appointed Special Advocates (CASA) of Westmoreland County serve 100 children. Nobody longs for a safe and loving family more than a child in foster care. As a court-appointed special advocate (CASA) volunteer, you are empowered by the courts to help make this dream a reality. CASA Volunteers not only bring positive change to the lives of these vulnerable children, but also their children and generations to come. In addition, in doing so, you will enrich your life as well.
Volunteers get to know the child by talking with everyone in that child's life: parents and relatives, foster parents, teachers, medical professionals, attorneys, social workers and others. They use the information they gather to inform judges and others of what the child needs and what will be the best permanent home for them.
Nearly 700,000 children experience abuse or neglect each year. Instead of playing with neighbors and making happy family memories, they are attending court hearings, adjusting to new foster homes and transitioning to new schools. That is a heavy burden for a child to carry. With a Court Appointed Special Advocate (CASA) volunteer dedicated to their case, America's most vulnerable children will have someone speaking up for their best interests. With your support, more children will have the opportunity to thrive in a safe and loving home.
You do not have to be a lawyer or a social worker to be a volunteer. We welcome people from all walks of life. We are simply looking for people who care about children and have common sense. As a volunteer, you are thoroughly trained and well supported by experienced advocates and professional staff to help you through each case.
Ready to Change a Child's Story?
National Volunteer Week is a great time to get involved!  Volunteer Your Time to Change a Child's Story: find out how by visiting casaofwestmoreland.org.