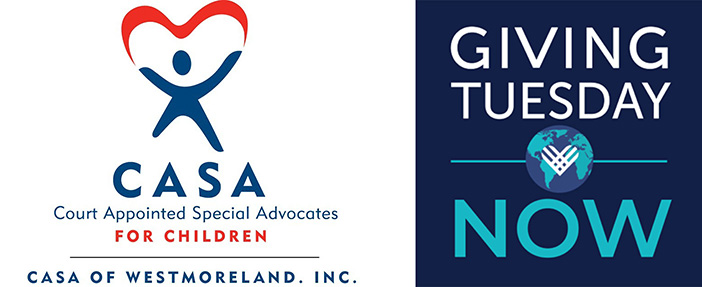 #GIVINGTUESDAYNOW is a global day of giving and unity that will take place on may 5, 2020 as an emergency response to the unprecedented need caused by Covid-19.

This new day is organized by givingtuesday, and is being held in addition to the annually scheduled givingtuesday event that will still take place on december 1, 2020.

#GIVINGTUESDAYNOW is an opportunity for people around the world to stand together in unity–to use their individual power of generosity to remain connected and heal. -givingtuesdaynow.org
CASA of Westmoreland, Inc. (Court Appointed Special Advocates) is joining in #GivingTuesdayNow in a Global Day of Giving set to take place on May 5th, 2020.  CASA Of Westmoreland is reaching out to the community for support in this emergency response to the unprecedented need caused by COVID-19.  The day is designed to drive an influx of generosity, citizen engagement, philanthropy activation, and support for non-profits.  And we are reaching out to all of Westmoreland County to be part of this amazing day.
CASA of Westmoreland, Inc. is participating in #GivingTuesdayNow in an effort to make sure every child in Westmoreland County who has experienced abuse or neglect has a caring adult by their side who will speak up for their needs and best interest.  Our goal is to raise $4,000 through this effort to positively impact each of the 400 children in Westmoreland County who have been removed from their homes and placed in foster care due to unimaginable abuse and neglect.  Abuse and neglect can happen to a child at any age.  Babies are at the highest risk with more than one quarter of victims being younger than three years old.  Now, more than every we need you.  We need your help to reach our fundraising goal in order to help these children.
Generosity gives everyone the power to make a positive change in the lives of others and in a fundamental value anyone can act on.  It's a day for everyone around the world to stand together and give back in all ways, no matter who or where we are.   CASA of Westmoreland is responding to meet the needs of the abused and neglected children throughout Westmoreland County.
We are asking you to be part of this amazing day.  Visit us at www.casaofwestmoreland.org and donate to help support a child in need.  Your generosity will not go unnoticed.