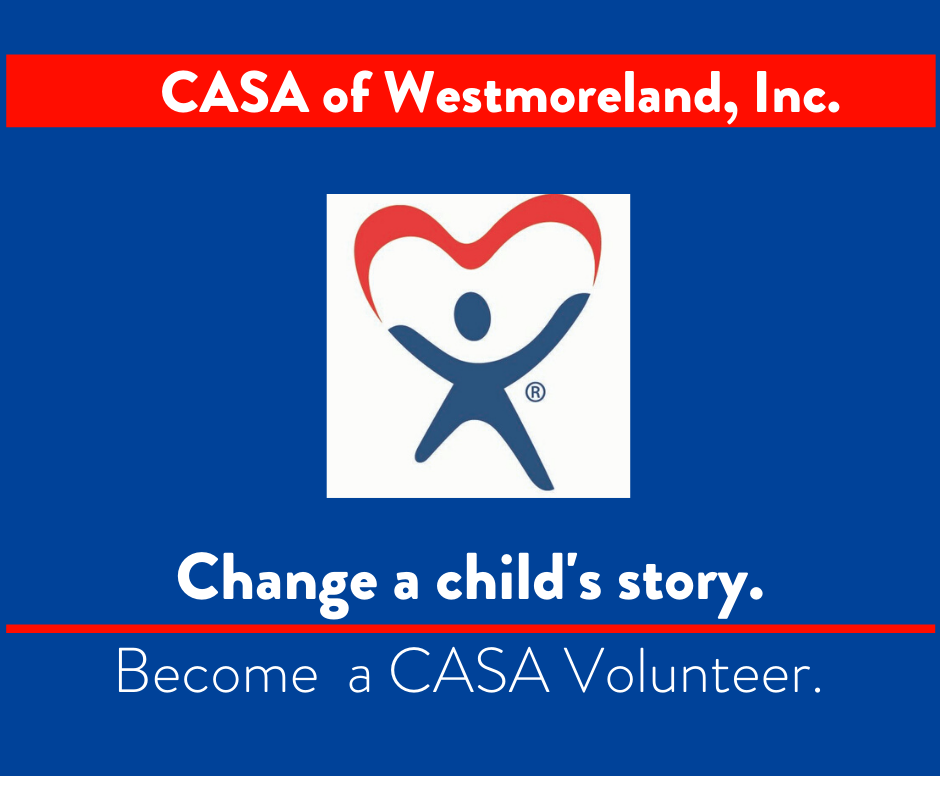 Get Involved, Become A CASA.
DO YOU HAVE 8-10 HOURS A MONTH TO CHANGE A CHILD'S STORY? IF YOU DO, CONSIDER BECOMING A COURT APPOINTED SPECIAL ADVOCATE (CASA).
CASA of Westmoreland, Inc. is a non-profit agency that provides volunteers to act as independent advocates for children who are in the court system due to abuse and neglect.
Who Volunteers for CASA?
CASA volunteers come from a variety of professional, educational, and cultural backgrounds.
No special legal or human services background is required.
Volunteers come from all walks of life and age ranges.
Who are CASA's?
Court Appointed Special Advocates (CASAs) are community members who are trained to:
Research the best interest of the children involved in child abuse/neglect cases
Submit reports to the Court that include recommendations reflecting each child's needs
Ensure a child's needs are met while awaiting placement in a safe, permanent, and nurturing home
The Role of a CASA Volunteer
To serve as a fact finder for the Judge
To establish a relationship of trust with the child
To speak for the child in the courtroom in order to represent the child's best interests
To continue as eyes of the court for the child during the life of a case
CASA role, How it differs from that of an Attorney?
CASAs provide crucial background information that helps the children's attorneys, called guardians ad litem (GALs), better understand and present the children's cases.
How Much Training is Required?
CASA volunteers undergo an initial 32-hour training.
The training provides information about the roles of the Children's Bureau, attorneys, Family Court, and others who are involved in abuse/neglect proceedings.
They also observe Family Court hearings so that they better understand the legal process involved.
How Much Time is Involved?
Each case is different, so the amount of time varies significantly. Typically, a CASA spends an average of 8-12 hours per month working on a case.
A CASA's schedule and other commitments are considered when assigning them to a case.
Your Partner ,CASA Case Supervisor:
Every CASA is partnered with a professional CASA employee Case Supervisor with whom you have continual access and who will accompany you to court.
You have the chance to discuss together what you are observing, strategize next steps, edit your court report with, etc.
Your Case Supervisor has the vantage point of having been through similar case situations, although each case child's situation is unique!
Who is Helped?
Each day in Pennsylvania, children are physically, sexually and emotionally abused and/or neglected.
These children often find themselves involved in a maze of individuals who must decide where and with whom they will live.
Hopefully one of these new people in the child's life is a CASA volunteer.
Benefits of CASA
Research suggests that children who have been assigned CASA volunteers tend to spend less time in court and less time within the foster care system.
Judges have observed that CASA children have better chances of receiving needed services and finding permanent homes than non-CASA children.
Are CASAs Supported By Lawyers, Judges, and Caseworkers?
Westmoreland County Family Court Judges, the Bar Association, and the Children's Bureau have all expressed support for CASA of Westmoreland, Inc. and are part of a collaborative effort to recruit and train volunteers.
How is CASA Funded?
501C3 organization
CASA of Westmoreland does not receive any federal or state funding.
CASA relies on the generosity of the community through individual and corporate donations, fundraising events, and various grants to sustain the program.
If you are interested in learning more or becoming a CASA, contact us at CASAINFO@co.westmoreland.pa.us or check out our website! 
ALSO, STOP BY OUR FACEBOOK LIVESTREAM ON APRIL 24, 2020 AT 2:00PM.
WE WILL BE LIVE, TALKING ABOUT OUR PROGRAM, AND THERE TO ANSWER ANY QUESTIONS!