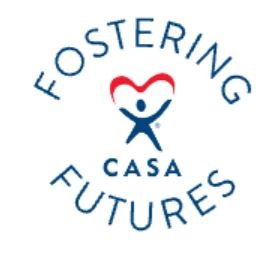 Fostering Futures Level I & Ii
CASA of Westmoreland, Inc began using the Fostering Futures program in 2014 and has trained 36 dual Advocate-Mentors to date. Each has used the Fostering Futures approach to help their case teen envision and prepare for their future.
Fostering Futures prepares Advocates to provide:
Positive and productive advocacy to address a foster teen's "present life" amidst the challenges of everyday adolescence.
Purpose-based mentoring focused on the near future-the day they turn 21- that entails preparing the youth to understand and explore options for his/her post-secondary success.
Helping a foster youth without parents to plan their transition to post-secondary success will enable them to support themselves in a meaningful job or career and to enjoy a secure early adulthood. It is one of the most important goals/gifts a CASA Advocate can share with a youth.
Fostering Futures I introduces the science and psychology of working with and understanding teens who have been traumatized. It provides tools including "Possible Selves" that provides questions for the CASA Advocate-Mentor and their youth to explore dreams for an exciting future, and the steps that it would take to accomplish that future. It also provides prompts to identify fears, influences, and obstacles that could derail a youth's quest for a positive future. Another tool, the Older Youth and Resource Assessment (OYNRA), charts 56 conditions or tasks that should be accomplished in 6 domains before a youth ages out of foster cares and they are on their own.
In Fostering Futures Level II the emphasis is switched to provide extraordinary resources for the Advocate-Mentor and the youth to research options for the youth's future and make solid action plans-together- to help the youth stay on task and launch well.
Advocates are given access to a new section of the CASA of Westmoreland, Inc website with several segments BURSTING with exploratory tools with options in 6 categories:
Education (present and future)
Employment (present and future)
Life Skills Practice
Physical and Emotional Health
Maintenance; Housing (Current Placement Stability and Future Housing Options)
Accessing Community Resources and Healthy Relationships
These segments help the Advocate-Mentor and youth to continuously "action plan" to solidify the youth's understanding of their strengths, to articulate/explore occupational yearnings/emerging talents that would make an occupational/academic study path viable, enjoyable, and affordable for the youth. Fostering Futures Level II is remarkable! We are indebted to Dr. Jeanne Burth, EhD. Pitt-Greensburg for her fine research and exciting partnership in bringing Foster Futures II to our organization.