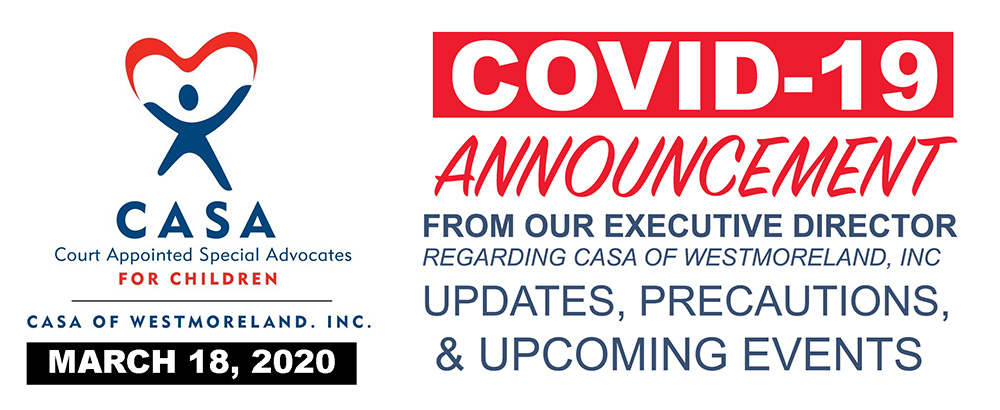 March 18, 2020
Dear Advocates and Friends:
Along with the rest of the world, we've been closely monitoring the evolving situation with COVID-19. It has brought uncertainty and disruption to the communities we serve, but CASA of Westmoreland County's top priority has not changed: the health and safety of our staff, volunteers and case children across Westmoreland County.
We wanted to take a moment to keep you informed on how CASA of Westmoreland County is doing everything we can to ensure the well-being of everyone involved in our organization's operation. We remain in close and regular contact with local officials at the Westmoreland County Children's Bureau, Westmoreland County Operations Leadership, The Westmoreland Court of Common Pleas' Judicial Leadership and our state and national CASA organization. Though the situation around the virus remains fluid, our goal is to meet or exceed all provided guidelines for our continued operation.
Here's what we know: The symptoms of COVID-19 are like the flu: fever, coughing and shortness of breath. It appears to mainly spread through a close person-to-person contact. It may be possible for someone to touch a surface or objects with the virus on it, then touch their nose or mouth and become infected. This is not the main way the virus spreads, according to the CDC and other health experts. Please call your doctor or dial 2-1-1 if you are experiencing related symptoms.
PA Commonwealth of Pennsylvania/ COVID-19 
Events & Logistics:
Fostering Futures II: The scheduled event for March 28, 2020, at Pitt-Greensburg, has been postponed to date in August, at the same location. We will post a new schedule along with an online registration once that has been set.
Leadership Breakfast: This event remains scheduled for April 24, 2020. As we receive more information in the coming weeks, we will make sure to communicate any news or postponements.
Training, CASA Cafes, Meetings: Have been cancelled effective immediately. We are mindful of the Governor's directives to "Social Distance" and call for self-isolation for individuals 65 years and older. We are mindful that individuals' thoughts and priorities are with their family's health and well-being, and we are respectful of that.
Visits – We still (subject to change) give Advocates the elective option for making an in-person visit to a case child, BUT only with the clear agreement by the foster/kinship parent that a home visit would be welcomed.  We anticipate that in-person visits will not be preferred by either the Advocate or the foster family for the present time. Alternative modes for staying in contact with your case child and their foster parents should be used. If appropriate, Advocates will need to complete a Monthly Visit Exception form and send it to their Advocate Supervisor
Other- In-person, case related meetings should be cancelled and attempted to be re-scheduled via phone/video conferencing.  Fortunately, our current training class completed its in-person, group "sections" of the training.  Whether their April 6th Swearing-In needs to be re-scheduled will be communicated. We will send a notice for new dates and times for training and in-services when we can do so.
Advocates are receiving updated case advocacy instructions, as they evolve, via Mitchell Samick, Program Services Director  and their Advocate Supervisors in emails and phone messages.
Office Hours:  CASA staff will be working from home for the period of March 18th through at least March 30th. Therefore, our CASA Offices are closed to visitors during this period and until we receive further directives.
We'll continue to share information as it becomes available and we want you to know how much we appreciate your flexibility and support of CASA's mission and our case children and youth.  We especially thank our Volunteers who have already done exceptional work serving our case children and who will continue to provide valuable emotional connection and advocacy for their case children during this challenging time.
Thank you, we're here for you, and we'll get through this together.
Sincerely,
Karen L. Burns, Executive Director
kburns@co.westmoreland.pa.us