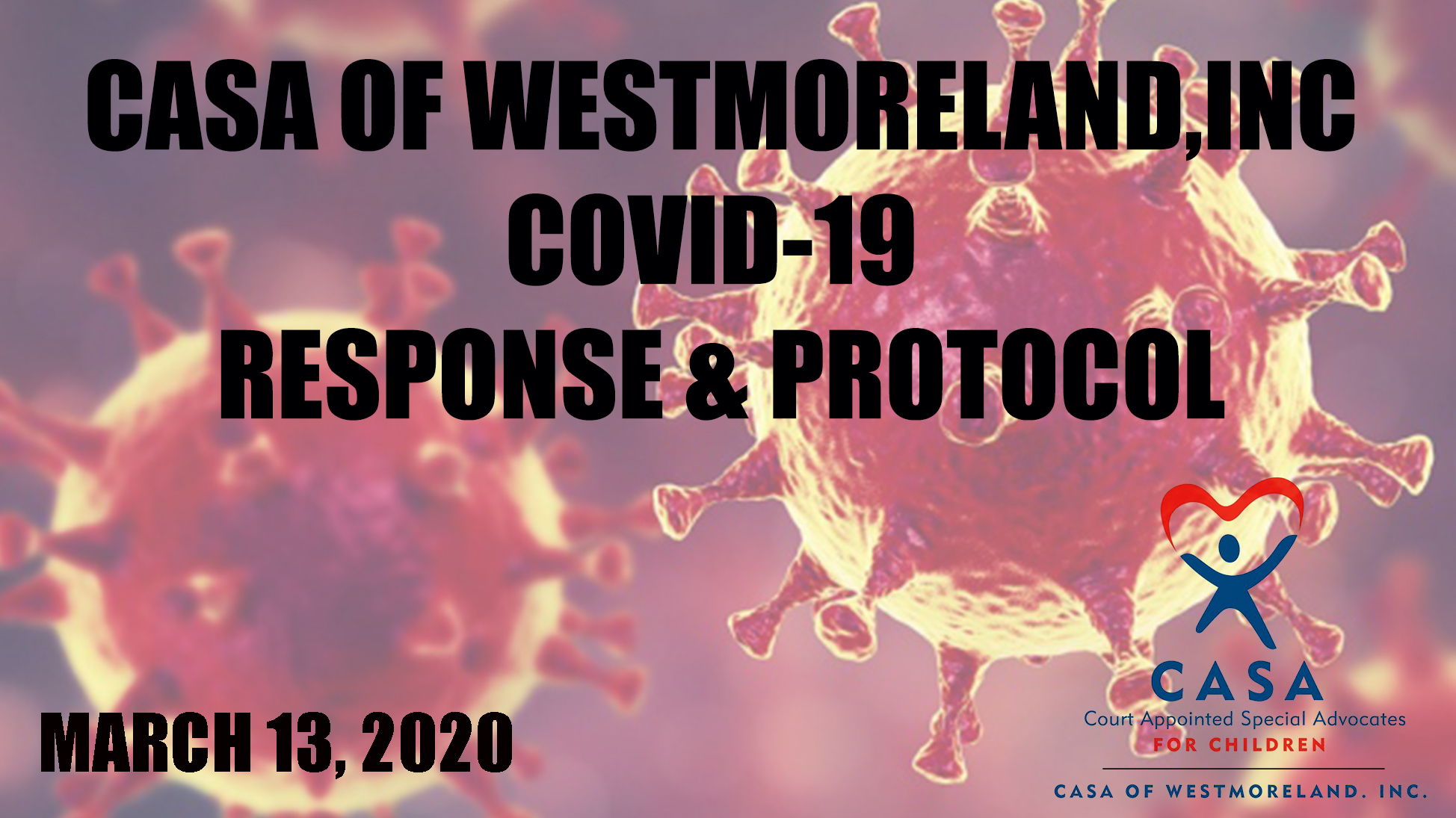 CASA Of Westmoreland, Inc. Covid-19 Response And Protocols
March 13, 2020
Like many of you, we are paying close attention to the evolving COVID-19 situation locally and nationwide. The safety of the children we serve, our volunteers and our staff are of paramount importance. We are determined to take prudent measures to help keep people safe, while attempting to avoid panic and continuing to fulfill our critical mission. We're adjusting our practices and protocols to prioritize safety while still supporting our essential advocacy for children in need. As the situation is constantly evolving, we will continue to evaluate our practices and response, and this page will be updated to reflect the most recent information for our community.
Child Visits
For our volunteer advocates and staff, the following changes will be made to our standard child visit practices:
Effective immediately we are suspending all child and family visits to institutions and congregate care settings (this includes shelters, residential treatment centers, schools, hospitals, jails, and other group settings).We will re-evaluate this suspension by April 17th and communicate with our volunteers and community again before that time.
For other child visits to (foster or kinship or children at birth home) we are offering the flexibility that National CASA has advised for the CASA network of programs. If volunteers need to self-quarantine or do not feel comfortable visiting their kids, they should let their Advocate Supervisors know so that we can document the "Visit every 30 Days Exception" to the case record and make additional arrangements as necessary.
If a child is not going to be seen in-person per our policies, please speak with the foster or kinship parent during the hiatus of in-person visits and update your Supervisor.
The fear and anxiety that many of us are feeling may only be compounded for the children and youth we serve who have also been affected by trauma, and may trigger trauma-associated thoughts/behaviors in/from the child or create additional tension in the child's home or placement. Therefore, it is vital to have ears (if not eyes) on the children we serve in any way possible to help them stay calm and connected. Please arrange through foster/kinship parent to speak to the child by phone on a bi-weekly basis if you will not be visiting in person. For older children, and children please stay in more frequent phone and text contact.
Presenting in Court
We are in touch with the County Offices, the Westmoreland County Courts and the Westmoreland County Children's Bureau and will take their lead about meetings and hearings. As recently as today, March 13th, Dependency Court Hearings were noted to be continuing.
At this point, the CASA office is open, and your Supervisors are present.  (This may change rapidly – with a backup plan for CASA staff to work from home, should the Courthouse be closed/Hearings Re-Scheduled)
For now, Volunteers are still encouraged to attend court as they are able and to follow recommended precautions but should let their Supervisors know if they are unable or uncomfortable so that we can be prepared to represent their views.
Trainings, Events, Info Sessions & Other Group Activities
We know that our best source of new volunteers is the recommendation of a current volunteer advocate, and we still have big goals for recruitment this year in order to help the 250 Westmoreland children in out of home placement who without a volunteer in 2019.  But given the challenge of holding optional public gatherings, we will be cancelling Info Sessions/CASA Café's through April 17th when we will re-evaluate all CASA activities and communicate to the public and to our CASA Advocates/friends.
But we want our current volunteers to know that we're equipping ourselves to continue recruiting for our Summer training. We have an active Spring Training that will finish very shortly with swearing in set for April 6th (subject to change.)
We are definitely rescheduling our Fostering Futures Level II continuing education training that was scheduled for March 28th.  (It will be re-scheduled to August 22 or 29th)
We are currently evaluating all future group activities and events for volunteers and supporters. We will make timely, appropriate decisions prioritizing the safety of our community and will immediately inform all affected by any decisions to postpone or cancel activities.
Stay Informed
We encourage all our volunteers, staff and supporters to stay informed and protect themselves and others. As this is ongoing, we will make any needed updates to our protocol on this webpage and will inform our staff and volunteers of urgent changes via email and text messaging.
You can follow local updates and recommendations from the PA Government Website.
Contact your CASA Advocate Supervisor at the office (724-850-6874) or send an email to Info@casaofwestmoreland.org  with any questions or concerns you have may have.